Car Paint Protection Film (PPF): Importance, Types and Advantages
If you bought a new car and are worried about how to protect its original paint, which can be damaged from scratching or discoloration? Or are you considering advertising on your car and want the paint to work as a shiny backdrop? 
The answer is to opt for Paint protection film (PPF) coating on your vehicle. As the name indicates, its main purpose is to protect the surface paint from deteriorating, offering a smooth or glossy finish. 
So, if you're keen to protect your vehicle against rocks, road debris, gravel and many more, read on to find out how.
What is a Paint protection film?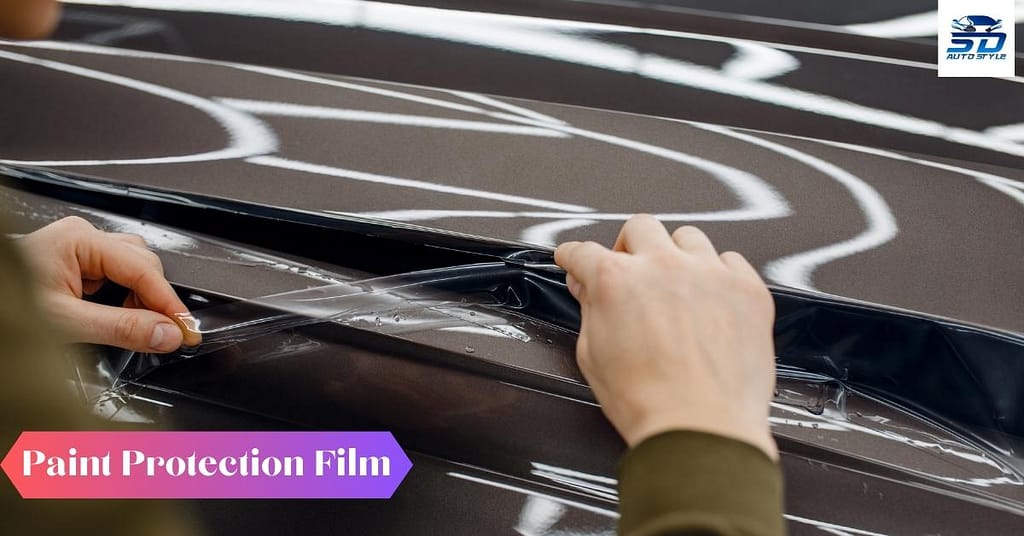 PPF is also known as Clear Bra. PPF (paint protection film) is a thin, translucent layer of urethane that is placed on the top of the car body.
It is a virtually invisible urethane film that acts as a barrier between your vehicle's paint and hazards on the road and in the environment. Many modern cars have urethane bumpers, insulation, seals, and even interior parts.
The material of PPF is extremely strong, chemically stable, flexible, and UV resistant. When applied to your car's body panels, PPF acts as a second skin and protects the paint from mechanical damage such as dings, scratches, and paint chips, as well as UV or chemical erosion.
Types of Paint protection films (PPF)
Discreet protection is offered by clear PPF (Paint protection film), a transparent film that keeps the car's original paint and finishes. PPF is a well known option among automobile owners because it is ideal for all kinds of vehicles. Here are three most common types of PPF used in the market.
TPH 
TPH is a polymer using polyvinyl chloride as its foundation that is less expensive than TPU (Thermoplastic polyurethane) and more effective than PVC Films. Although PVC serves as the foundation of the TPH Film, the technology employed enhances polyvinyl chloride's flexibility and chemical characteristics. The result is that the TPH material is more flexible than PVC films or it does not discolor. However, in terms of general flexibility, toughness, and life, TPU outperforms it.
TPU (Thermoplastic Polyurethane)
TPU also known as Thermoplastic Polyurethane.  TPU has a different chemical structure than conventional PVC, which makes it far more flexible and long-lasting. These Films are simple to install without the use of heat guns or other tools due to their exceptional flexibility. TPU films are extremely durable; they do not lose their elasticity over time or develop cracks or discoloration. Thermoplastic Polyurethane Films are easy to apply and remove without causing any harm to the original car paint.
PVC (Polyvinyl chloride)
The third most utilized synthetic plastic polymer in the world is PVC (polyvinyl chloride). Since PVC paint protection film was the earliest and most widely utilized form of PPF. PVC films are often referred to as first-generation PPF (Paint protection films). While PVC Films do offer some paint protection for your car, they are challenging to install due to their hard structure. Additionally, polyvinyl chloride typically hardens within 1 to 3 years of life and tends to lose both its elasticity and color over time. 
Advantages of PPF (Paint protection film)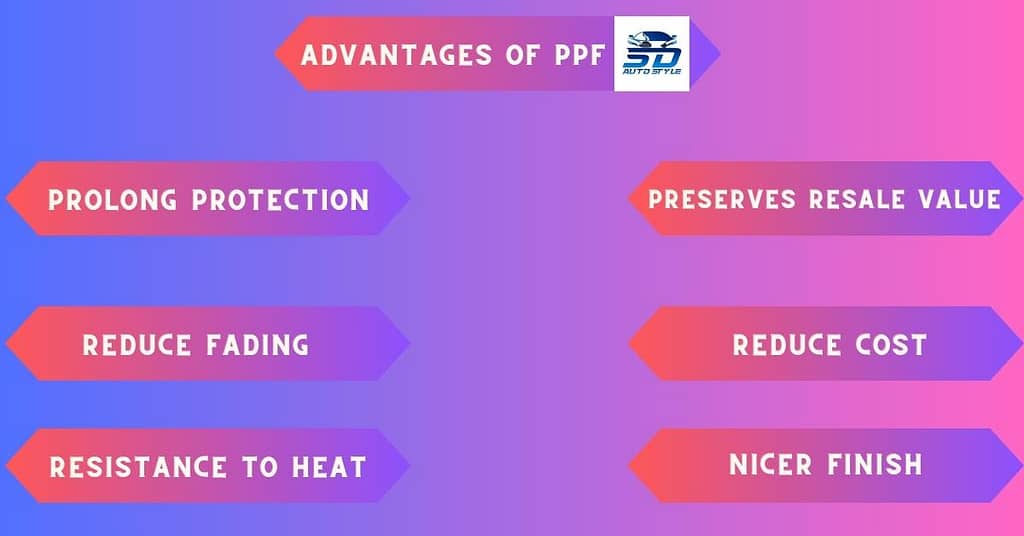 Prolong protection of car paint

Protection against chemicals & corrosion

Prevents wear and tear

Instant healing against minor scratches

Easy to Remove 

Enhanced vehicles finish
Prolong protection of car paint
Most high quality car protection films (PPF) last up to five to seven years of continual use, depending on the driving conditions, preservation, or wear and tear. Before making a wise decision, make sure to thoroughly research the types of films and materials available in the market, and choose certified and adequately trained professionals (SD Auto Style) to install PPF on your vehicle.
Protection against chemicals & corrosion
Paint protection films (PPF) are infused with three separate layers, each adding advanced strength against chemical and corrosive damage. Acidic corrosion from bugs, bird droppings, and other contaminants is countered by innovative technology that protects against stains and swirl marks, with a film formulation that's nearly invisible.
Prevents wear and tear
PPF guards against the unavoidable hazards of the road. From UV rays to acidic bugs, rock chips, and scratches, the innovative 'self-healing' finish of PPF keeps your car as good as it looked when it rolled off the lot. Even better, with less need for repairs and bodywork, you save money.
Instant healing against minor scratches
During driving small nicks and scrapes are unavoidable, but that doesn't mean they're long lasting. Most paint protection film products have self healing properties that actively reduce the appearance of scrapes or swirl marks when heated. When nanotechnology can fill minor scratches, it's easier to enjoy your time on the road.
Easy to Remove 
Another noteworthy advantage of car PPF is that it is easy to remove, unlike a regular paint job and leaving no traces behind. This is why PPF is important to approach professionals to get it removed since doing so ensures little to almost no damage to the car's paint. Easy removal is also particularly beneficial if you're planning to resell your car in the future, you only need to remove the film and unveil the car with a perfect paint finish underneath.
Enhanced vehicles finish
Paint protection film is first and foremost, a defensive shield for your car. PPF reduces impact damage from rocks and road debris. Also, preventing premature aging, fading or cracking, and discolouration. A glossy or matte finish with a sleek and polished appearance that enhanced your car finish.
Importance of Paint Protection Film 
The paint on your car not only makes the car look better but it also protects the car from many harmful substances. However, UV radiation, dirt from the road, bird droppings, or other impurities can harm the paint. Installing PPF (Paint Protection Film) provides an extra layer of protection, ensures the longevity of your vehicle's appearance and protects its resale value.
Protection against External Elements
The harsh outdoor conditions that your car is continually exposed to include dust, dirt, rocks, and debris. PPF (Paint protection film) serves as a shield, protecting the paint of the car from these potential dangers, avoiding scratches, and maintaining its spotless appearance.
Protection against paint scratches & paint damage
Ordinary incidents like parking lot dings, unintentional brushing, and even vehicle wash brushes can damage the paintwork. PPF gives an additional line of defense, absorbing shocks to prevent damage to the paint.
Maintaining Car's aesthetic 
PPF makes sure that the color and finish of your vehicle stay as they were original. Paint protection film is practically invisible, letting your car's beauty show through without detracting from its appearance.
Maintaining the car's Resale Value
A well-maintained car retains its value better when it comes time to sell or trade it in. PPF aids in upkeep, stops paint deterioration, and keeps the car's newer appearance for longer.  This leads to a higher resale value.
A Look into the SD Auto Style Company
SD Auto Style is a reputable company that offers top notch car paint protection film services. We provide high quality PPF (Paint protection film) services in San Diego. SD Auto Style provides a different PPF option to suit different vehicle types and customer preferences.
Last words
As we discussed, car paint protection film plays an important role in preserving the appearance and resale value of your vehicle. With its ability to protect against external elements, prevent paint damage and maintain aesthetic appeal, PPF/clear bra is a worthwhile investment for any vehicle owner. Give your car the ultimate shield it deserves with SD Auto Style's PPF services and enjoy a beautifully protected vehicle for years to come.
"SD Auto Style is a company that offers Auto Styling Services for your car. These services can improve the look and performance of your vehicle by changing the color, protecting the paint, and reducing the heat and Glare"