Getting your car PPF Protected – Everything you need to know!
Car paint keeps your car safe and looking spiffy. But even though it looks tough, your car's paint can be damaged. If you don't protect the exterior of your car, UV rays, road debris, bird droppings, and even car washes can all cause lasting damage. 
You probably already know that there are many different ways to protect your car paintwork these days. There are literally hundreds of different types of waxes, Coatings and Sealants that you can choose to help enhance and preserve your pride and joy. 
But paint protection film (PPF) is one of the best options. PPF (Paint protection film) is designed to protect the paint from everyday wear and tear, scratches, chips, or UV light damage. This blog will help you to understand paint protection film (PPF or clear bra) and how it protects your car, so let's dig in.
What are PPF or Paint Protection Films?
Paint Protection Films go by many different names in the industry these days including Clear mask, clear bra, invisible shield, clear wrap, rock chip protection, car scratch protective film, etc. Paint protection film is usually just abbreviated to PPF.
Paint Protection Film is made from a type of plastic (urethane) material that has a certain amount of elasticity, allowing it to be curved, stretched, and bend around corners and bends. Perfectly suitable for the body panels of a vehicle.
It is generally applied to painted surfaces of a used or new car to protect the paint from stone chips, bug splatters, and minor abrasions. The layer of the PPF is constructed of an elastomeric polymer, which helps the material maintain its shape after it has been stretched or applied. This allows the PPF to self-heal when light scratches occur. Typically a heat gun or direct sunlight will remove the scratches.
Also, PPF acts as a second skin and protects the paint from mechanical damage such as dings, scratches, and paint chips, as well as UV or chemical erosion.
Benefits of PPF (Paint Protection Films)
Though the film primarily protects your car from scratches due to versatility, it also shields the car from parking incidents as well as road salt to make the vehicle pristine for longer. Below are a few benefits of paint protection films (PPF) for vehicles.
PPF protects against fading
Sunlight, rain and snow can cause your car paint job to fade, making it look old and boring. Also, if the car gets different amounts of sunlight at different times, it ends up with different shades and may need to be painted again. Cars are mostly made of metal, which rusts when left out in the rain and can cause other major problems.
Due to its (PPF) unique chemical properties, PPF blocks harmful UV rays, thus preventing fading. The paint on your car won't get dents, scratches, or chips if you put a protective film on it.
Self healing properties of PPF
Paint protection films have self healing properties. The multiple layers of the film work together to protect the paint and heal surface level damage. A scratch resistant urethane coating keeps the paint from being destroyed. 
The self-healing paint protection goes back to its lowest energy state when it comes in contact with heat. This means that surface level scratches or dings will heal if you wash the car with warm water or leave it in the sun.
Prevents wear and tear
PPF guards against the unavoidable hazards of the road. From UV rays to acidic bugs, rock chips, and scratches, the innovative 'self-healing' finish of PPF keeps your car as good as it looked when it rolled off the lot. Even better, with less need for repairs and bodywork, you save money.
Maintaining Car's aesthetic 
PPF makes sure that the color and finish of your vehicle stay as they were original. Paint protection film is practically invisible, letting your car's beauty show through without detracting from its appearance.
PPF is ideal for all types of vehicles
Despite your vehicle's model, PPF maintains the aesthetics of your vehicle. Although they only covered paint on parts of cars in the past, new types are compatible with all vehicle models. Wrong-fitting bras can scratch the paint. Therefore, find the best film suitable for your car, designed to be virtually undetectable.
Maintaining the car's Resale Value
A well-maintained car retains its value better when it comes time to sell or trade it in. PPF aids in upkeep, stops paint deterioration, and keeps the car's newer appearance for longer.  This leads to a higher resale value.
Types of Paint protection films (PPF)
Discreet protection is offered by clear PPF (Paint protection film), a transparent film that keeps the car's original paint and finishes. PPF is a well known option among automobile owners because it is ideal for all kinds of vehicles. Here are three most common types of PPF used in the market.
TPH

TPU (Thermoplastic polyurethane)

PVC (Polyvinyl chloride) 
How to Install Paint Protection Film?
Generally, there are five main steps when it comes to installing paint protection film (PPF).
Clean and prep the surface.

Cut the PPF material into sections

Use An Activator Solution

Fitting the PPF

Drying Stage
How to maintain Paint Protection Film
If you just got paint protection film (PPF) put on your car, congrats! You've taken an important step in preserving the beauty of your vehicle's paint job. But how do you take care of your new PPF and keep it looking good? 
First and foremost, keep in mind that paint protection film is not magical. PPF will not entirely protect the paint of your car. However, ppf will provide a barrier between your paint and the environmental elements, which helps to prevent scratches, chips, or other types of road damage.
Washing your car on a regular basis is one of the finest ways to care for your paint protection film. 
You can wash your car once a week.

Use a mild vehicle soap. On the film, avoid employing harsh chemicals.

It is best to use the two-bucket hand washing method. Only use touchless car washes if you must use an automatic car wash.

Avoid spraying high pressurized water at the film's edges. This can cause the film to lift.

Waxes and polishes should not be used on your paint protection film.
You can also arrange for regular maintenance washes with SD Auto Style to keep your vehicle's paint protection film in good condition.
Importance of Paint Protection Film 
The paint on your car not only makes the car look better but it also protects the car from many harmful substances. However, UV radiation, dirt from the road, bird droppings, or other impurities can harm the paint. Installing PPF (Paint Protection Film) provides an extra layer of protection, ensures the longevity of your vehicle's appearance and protects its resale value.
How we apply Paint Protection Film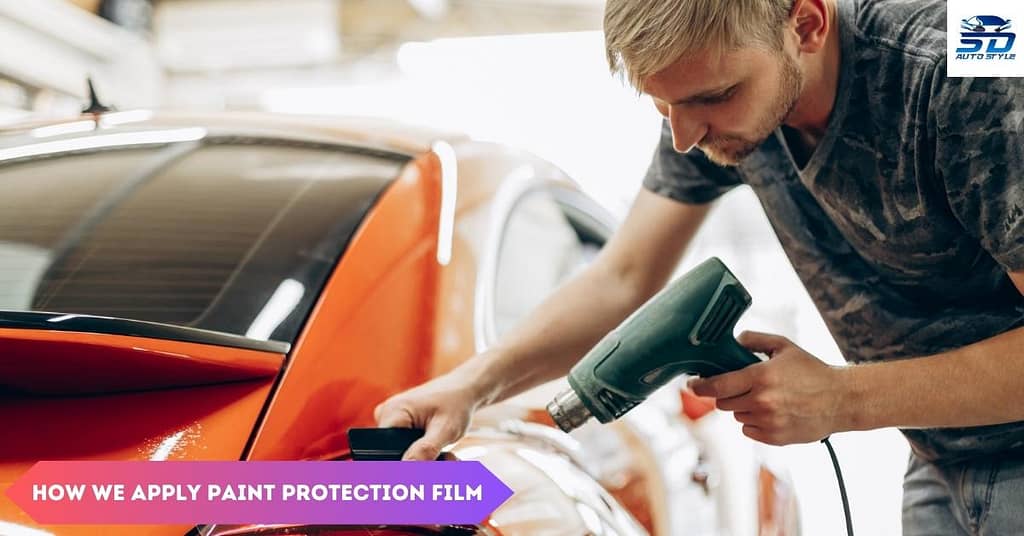 At SD Auto Style, we take great care in applying Paint Protection Films. We start by thoroughly cleaning the surface of your car. If needed, we perform a paint correction on the car to remove any fine scratches and swirls. It's best to apply PPF (Paint protection film) to swirl free paint whenever possible. Then, apply this (PPF) optically clear film using a wet installation process and ensure a smooth or bubble free finish.
When it comes to protecting your vehicle's original paint job, there are a lot of options out there. At SD Auto Style, we only use the best of the best and that's paint protection film or clear bra.
Conclusion
If you are worried about physical damage to your paintwork or you own a very expensive car, then it is worth looking at getting PPF professionally installed on your vehicle. PPF is invisible, durable, and easy to maintain.
Get a free quote for your vehicle and learn more about our (SD Auto Style) paint protection film services by contacting us today.
"SD Auto Style is a company that offers Auto Styling Services for your car. These services can improve the look and performance of your vehicle by changing the color, protecting the paint, and reducing the heat and Glare"