Paint protection film - is it worth the money?
Are you considering investing in paint protection film for your car in San Diego? If you've been driving around and seen other cars with a sleek, glossy finish and wondered how you can achieve the same look without having to repaint your car, then Paint Protection Film (PPF) might be the solution for you.
Fortunately, SD Auto Style has lots of great options for paint protection film that can protect your vehicle from the everyday wear and tear of daily driving. But before you get out your wallet and invest in such a sizable bulk order, it's important to weigh the pros and determine whether PPF is worth the investment.
So, What is PPF?
PPF or paint protection film is a thermoplastic urethane film with self-healing properties that is used to protect vehicle paint surfaces from light scratches, rock chips, swirl marks, or abrasions.
This protective film (PPF) is applied to painted surfaces on a new or old car that is at risk for damage, such as bumpers and hoods. Paint protection film installation can protect vehicle surfaces from light scratches or yellowing caused by UV radiation. It's also sometimes called a clear bra or invisible shield.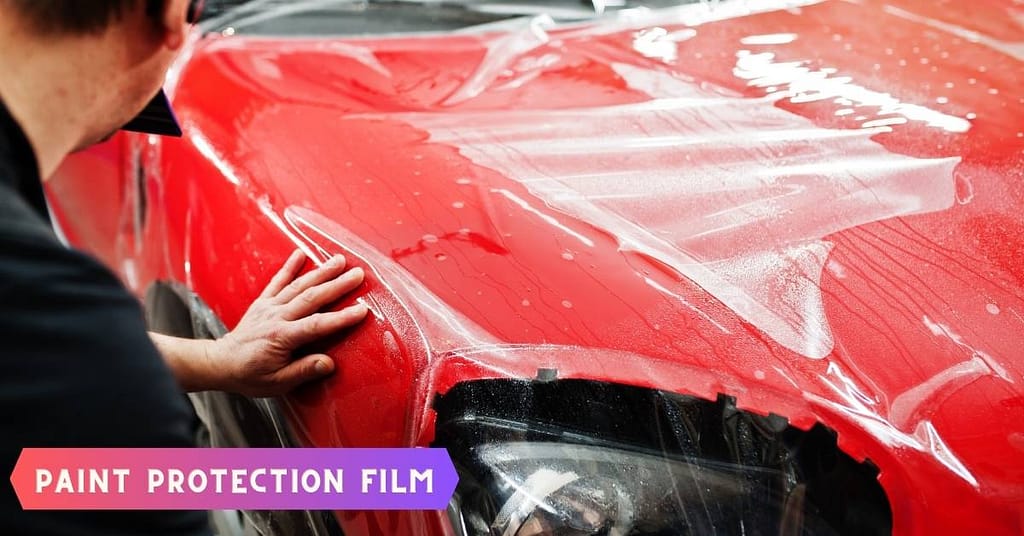 Is Paint Protection Film worth buying?
Yes! PPF is worth every cent. PPF (Paint Protection Film) is a transparent protective film that is applied on the exterior of a vehicle to reduce the risk of paint damage. 
If you recently buy a car, you'll most likely come across paint protection films or ceramic coatings as options to protect your car's paint. Though the price tag is the primary reason most people question its durability, PPF offers exceptional value for money. 
 However, it is essential to note that the durability and efficacy of paint protection film are partially dependent on maintenance. Following the manufacturer's care instructions is one of the best methods to extend the life of your investment. 
Cost vs. Benefits: Evaluating the Worth of PPF (Paint Protection film) Car Protection
When considering paint protection options for your car, it's essential to weigh the cost against the benefits to determine why you use PPF (Paint Protection Film) over other paint protection products.  Why is PPF worth the money? Let's check out
Superior Protection
PPF (Paint protection film) offers unparalleled protection against various elements that can damage your vehicle's paint, such as stone chips, road debris, bug splatters or minor abrasions. With PPF car protection, you can protect your vehicle's exterior and maintain its flawless appearance for years to come.
Longevity
Most high quality car protection films (PPF) last up to five to seven years of continual use, depending on the driving conditions, preservation, or wear and tear. Before making a wise decision, make sure to thoroughly research the types of films and materials available in the market, and choose certified and adequately trained professionals (SD Auto Style) to install PPF on your vehicle.
Self Healing
Paint protection films have self healing properties. The multiple layers of the film work together to protect the paint and heal surface level damage. A scratch resistant urethane coating keeps the paint from being destroyed. 
The self-healing paint protection goes back to its lowest energy state when it comes in contact with heat. This means that surface level scratches or dings will heal if you wash the car with warm water or leave it in the sun.
Ease of Maintenance
PPF makes car maintenance hassle free. PPF resists dirt, grime or stains, making it easier to clean your vehicle. Regular washing and occasional detailing will keep your car looking pristine and the PPF (Paint Protection Film) will continue to provide reliable protection.
Why should you consider PPF for your car?
If you don't protect the paint on your new car, it will quickly look less-than-new due to daily wear and tear, dings, and scratches. So, here are a few reasons why you get paint protection film.
PPF Reduces the Regular Washing
If you choose washing and waxing, you'll spend a lot of time maintaining your car clean, and you won't be protected against paint fading or other damage. 
In contrast, paint protection film repels the dust, grime, and filth that accumulates on a vehicle as it is driven. The best part is that you can easily wipe stuck dirt away without washing, reducing your car maintenance time. 
It Preserves Vehicle Resale Value 
Maintaining the exterior condition of your vehicle is crucial especially if you intend to sell it later. In addition to mileage and exceptional mechanical condition, the paint job and overall appearance of your vehicle affect its resale value. 
With paint protection film, maintaining the exterior condition of your vehicle is a breeze. Due to the fact that the majority of buyers search out vehicles in pristine condition, an excellent paint job would make a favorable first impression and likely fetch you a higher selling price. 
Protection Against Paint Fading
Aside from snow and rain, sunlight exposure is a major cause of paint fading in vehicles, making your paint job drab. 
Perhaps the car receives uneven sunlight; you'd see varied color hues on your car, which would necessitate a new paint job. PPF, on the other hand, has special chemical qualities that allow it to inhibit the influence of UV rays on your car's paint. 
PPF Saves Money
Repainting your car or continuous paint correction can eat into your funds, not to mention the inconvenience of not having your vehicle for an extended period of time. Paint protection film application, on the other hand, is a fantastic paint protection and maintenance alternative. You're unlikely to repaint your vehicle after installing it.
Despite the high upfront expense, it is less expensive when compared to the cost of repainting, monthly waxing, or periodic paint correction. 
Paint Protection Film vs. Ceramic Coating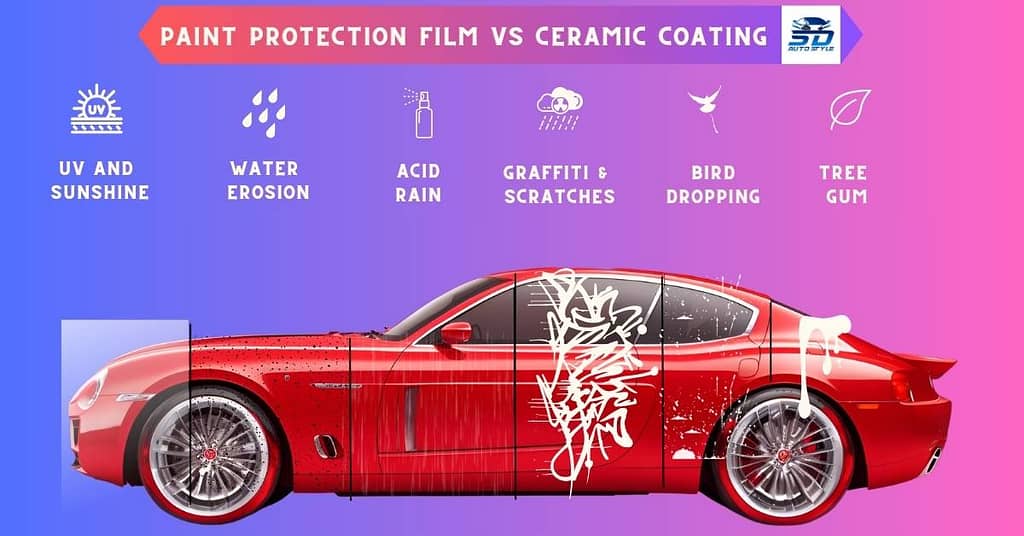 Ceramic Coatings and Paint protection films (PPF) are the most popular options for vehicle's exterior protection . Both will protect the paint, but neither is an ideal way to keep your vehicle's finish pristine, so choose the best option for you. 
Ceramic Coating
Rather than wrapping the car in vinyl, this (ceramic coating) sort of clear coat protection connects with the paint itself. This means you won't have to reapply it as frequently as you would with a high quality wax or powder coating. The nano-coating gives your car an incredibly glossy appearance and repels water like nothing else on the market.
A short hose rinse will provide you with a pristine, shining finish.
The disadvantage of ceramic coating is the possibility of scratches, flying debris, or other defects damaging autos. A ceramic coating is also time-consuming and difficult to apply, and it might be more expensive than installing PPF.
Paint Protection Film (PPF)
PPF acts as a second skin and protects the paint from mechanical damage such as dings, scratches, and paint chips, as well as UV or chemical erosion. It is thicker than a ceramic coat and isn't permanent, so you can readily remove it if necessary.
Even if DIY kits are available, PPF installations should be performed by a professional. While it is removable, you cannot reapply the same film once it has been removed. PPF is also less hydrophobic than a ceramic coat.
How long does PPF last?
Paint protection film usually lasts five to ten years if applied correctly. There are many factors that determine how long the PPF installation will last. If your vehicle stays in a garage, away from harmful UV rays, dust, or rain, the paint protection film (PPF) will last longer than if the car is parked outside.
Most importantly, having a professional install PPF will give you the best results. Anything less might result in peeling, yellowing, and air bubbles.
How to maintain paint protection films?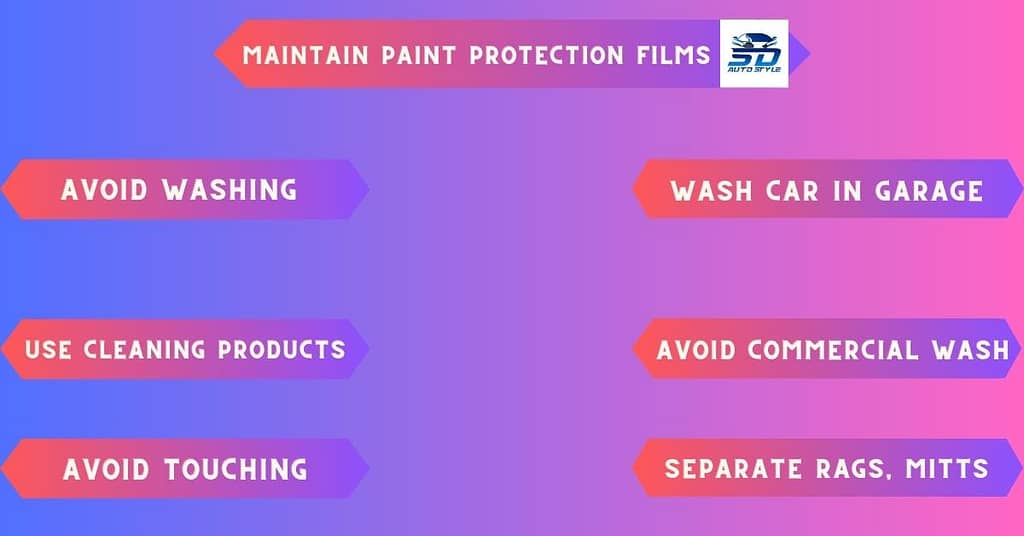 It is vital to keep your car in perfect condition by maintaining the PPF installation properly. Once you have made the decision to install PPF. Here are a few tips to consider.
Avoid washing your car after installing paint protection film as it needs to settle and cure, and applying pressure on the coating could potentially affect this process.

Ensure high-quality cleaning products are used, as low-quality ones may contain harsh chemicals that can damage the car paint protection film.

Avoid touching the film after installing PPF as it may take several days for the film to settle and cure, avoiding car driving to prevent pressure on the PPF application.

Wash cars in shade or garage if possible to prevent damage to the coating from direct sunlight and car wash soap.

Avoid using commercial car wash for PPF protection, as harsh soaps, pressure washers, and dirty brushes can damage the film's application or top layer.

Separate rags, mitts, and buckets for wheels and body cleaning, and keep tire debris away from the vehicle body. Use separate cleaning products for both areas.
Concluding Thoughts
The cost of PPF (Paint protection film) car protection is undoubtedly worth the spend for vehicle owners seeking long-term paint protection. Its transparency allows the natural color and shine of your vehicle to shine through while providing the necessary protection. 
At SD Auto Style, we offer professional car detailing services that include the application of high-quality PPF. Experience the benefits of PPF car protection, explore our range of other car care services like vehicle wrap services, car window tinting and application of the best ceramic coating for cars. So, what are you waiting for? Contact Us Now!
"SD Auto Style is a company that offers Auto Styling Services for your car. These services can improve the look and performance of your vehicle by changing the color, protecting the paint, and reducing the heat and Glare"