The Art of Vehicle Wrapping: A San Diego Specialist's Guide​
In this digital world, where internet ads and social media are the most common ways to advertise, vehicle wraps are a new and effective way to advertise offline. Vehicle wrapping is unique and appealing to individuals as well as businesses. 
Vehicle wraps are a very popular design product for small businesses. The side of their vehicles is a great advertising space that will be seen by many people. It's basically a mobile billboard with ad space that a business owner only has to pay for once. 
SD Auto Style, your local San Diego sign company, develops custom auto wraps, business car wraps, boat wraps, and more for local businesses. For more information keep reading.
What is Vehicle or Car Wrapping?
Car wrapping is the process of completely or partially covering a car in a unique vinyl film. Vehicle wraps can be customized to any vehicle, including trucks, cars, vans, SUVs etc. All vinyl vehicle wraps are personalized for each customer, so you won't have to worry about your wrap design being copied by the competition.
The Process for Vehicle Wrapping
If you are interested in getting a car wrap, whether it's a full or partial vinyl car wrap, you want to know more about the vehicle wrapping process itself. Here are few step to consider
Design Consultation

Car Wrapping Material Selection 

Vehicle Preparation for wrapping

Vinyl Wrap Installation

Post-Installation Inspection of Car Wrap
Design Consultation
The wrapping of an automobile process begins with a consultation. The staff at SD Auto Style will assist you in selecting the hues, designs, and graphics that will look best on your vehicle. You will talk about your goals, vision, and any particular branding components you want to include in the wrap during the design consultation. This helps us understand your needs and a suitable design.
Vehicle Wrapping Material Selection
After a drawing is made, it is shown to people for their approval. At SD Auto Styl, we make sure the car wrap's final design satisfies your specifications. You'll choose the type of vinyl you want to use for your wrap. We apply high quality vinyl which provides longevity and beautiful finish. Our wraps also have a special UV layer that helps protect them from the weather.
Vehicle Preparation for wrapping
Before applying the wrap, the vehicle's surface needs to be thoroughly cleaned and prepared. For a car wrap installation to be successful, preparation is essential. To guarantee that there is no dirt, filth, or grease that could obstruct the adhesive process, the car is completely cleaned.
Vinyl Wrap Installation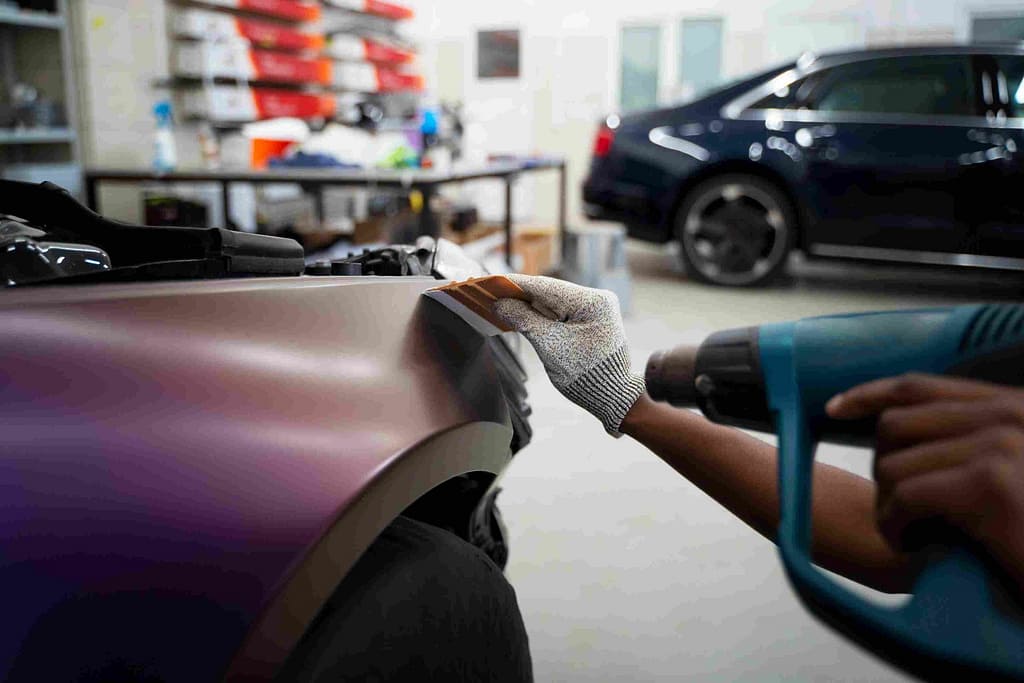 After thoroughly cleaning and preparing the vehicle, our experts start installing the wrap. To do this, the vinyl wrap must be carefully put on the car's surface, making sure there are no bubbles or cracks. In this case, the knowledge and experience of our staff are unquestionably superior. Although the process can be time-consuming, accuracy is necessary to produce a wonderful result.
Post-Installation Inspection of Car Wrap
Our team does a quality check after the vinyl wrap is put on. We look at the wrap closely to see if there are any bubbles, wrinkles, or spots that didn't stick properly. If we find problems, we fix them right away. Because we strive for perfection, we make sure that every car wrap installation is perfect.
Pros of Vehicle wraps
Here are the top benefits of a vehicle wrap.
Add vibrant color
Instead of white with a logo, utilize full-color graphics and other vibrant, eye-catching photographs for fleet graphics. To get your word out to the public, think large and colorful. Because a car is always moving, you want a bright and loud wrap. People may read it from a long distance while the car moves. Vehicle wraps and fleet graphics are billboards on wheels, so make sure your artwork is brief and easy to read.
Personal Branding
Vehicle wraps are best for personal branding. You can use your car as a moving billboard if you operate a business in San Diego. Custom car wraps with your company logo, contact information, and brand message can effectively promote your business wherever you go. It's like having a moving billboard that reaches more people than regular ads do without additional costs.
Custom design
You may show your personality and build a one-of-a-kind car with nearly endless customization choices. Whether you want to showcase your favorite sports team, display your company logo, or create an eye-catching graphic, car wraps can bring your vision to life. Unleash your creativity by collaborating with the specialist to create a custom wrap showcasing your personality or brand identity.
Mobile Billboard
Vehicle wraps guarantee views and impressions whether they are on the road or parked. It works 24/7. Regarding other advertising channels, vehicle wraps are less likely to be ignored and guarantee attention from passers by.
Popular Vehicle Wrap Designs
Car wraps offer unlimited design possibilities. Here are some popular wrap designs to consider:
Graphic Wraps
Incorporate eye-catching graphics, patterns, or images that represent your brand or personal style.
Partial Wraps
Partial wraps cover a specific portion of the vehicle, typically focusing on the sides, rear, or hood.
Full Wraps
Full wraps cover the entire surface of the vehicle, including the windows. In most cases, this is done using a solid color. 
Custom Designs
Unleash your creativity by collaborating with the specialist to create a completely custom wrap that showcases your personality or brand identity.
Choosing the Right Vehicle Wrap Specialist
Selecting the right vehicle wrap specialist is crucial to achieve a professional and visually stunning result.
SD Auto Style in San Diego.
If you are looking for car wrap services in San Diego, there are several reasons why you should choose SD Auto Style:
We use high quality materials for long lasting results

Our car wraps are budget friendly

SD Auto Style provides professional installation process

We provide more personalized designs.

SD Auto Style increases your brand reputation and trust.
Final Thoughts
Vehicle or Car wrapping not only transforms your vehicle but also your advertising approach, leaving a lasting and impactful effect on road users. As discussed, the process of vehicle wrapping involves careful planning, customization, and professional installation, ensuring a flawless result that serves as a mobile billboard 24/7. Selecting the right specialist, like SD Auto Style in San Diego, is crucial for a professional and visually stunning result. 
"SD Auto Style is a company that offers Auto Styling Services for your car. These services can improve the look and performance of your vehicle by changing the color, protecting the paint, and reducing the heat and Glare"