Why is PPF the best car paint protection in San Diego? Here's Why!
Are you tired of cringing at every little scratch, rock chip, or scuff that mars your car's beautiful paint job? Whether you own a luxury vehicle, a vintage car, or just bought your first ride. The last thing you'd want to deal with is paint damage. Fine scratches and swirl marks are blemishes that could damage your paint and reduce its value.
Most car owners are willing to invest significant time and money into paint protection for obvious reasons but have doubts about options like paint protection film, waxes, ceramic coatings etc.
But when it comes to protecting your vehicle's pristine paint finish in the vibrant city of San Diego, Paint Protection Film (PPF) emerges as the ultimate solution.
Why settle for anything less than perfection when you can safeguard your vehicle's pristine appearance with our cutting-edge Paint Protection Film? Here's why you should jump on PPF!
What is PPF?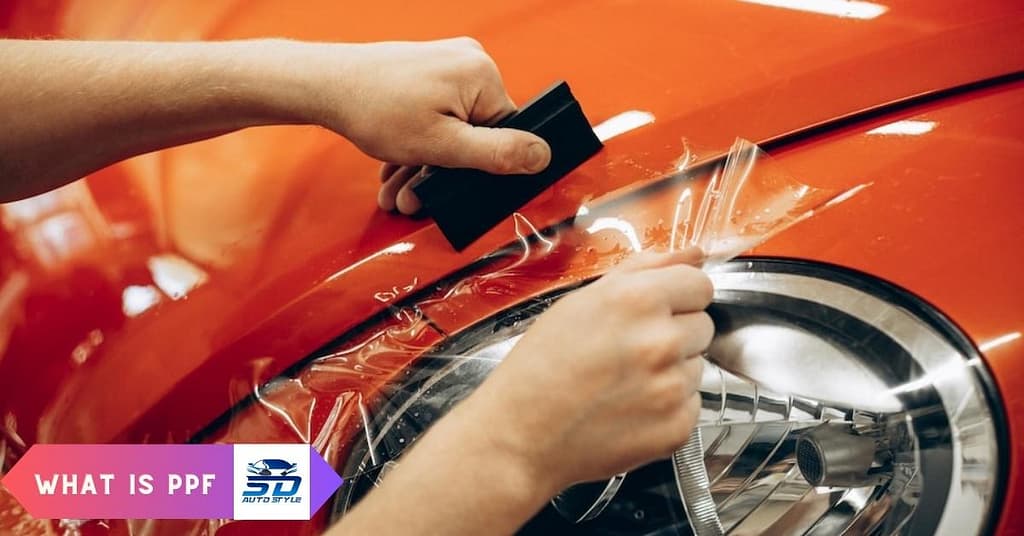 Paint Protection Films go by many different names in the industry these days including Clear mask, clear bra, invisible shield, clear wrap, rock chip protection, car scratch protective film, etc. Paint protection film is usually just abbreviated to PPF.
Paint protection film (PPF) is the best example of an aftermarket product that works exactly as it should. Its (PPF) major function is to protect the paint surface and other materials where it is used. PPF (paint protection film) is a polyurethane-based material.
This protective film (PPF) is applied to painted surfaces on a new or old car that is at risk for damage, such as bumpers and hoods. Paint protection film installation can protect vehicle surfaces from light scratches or yellowing caused by UV radiation. It's also sometimes called a clear bra or invisible shield.
Reasons to Install Paint Protection Film (PPF) on Your Car in San Diego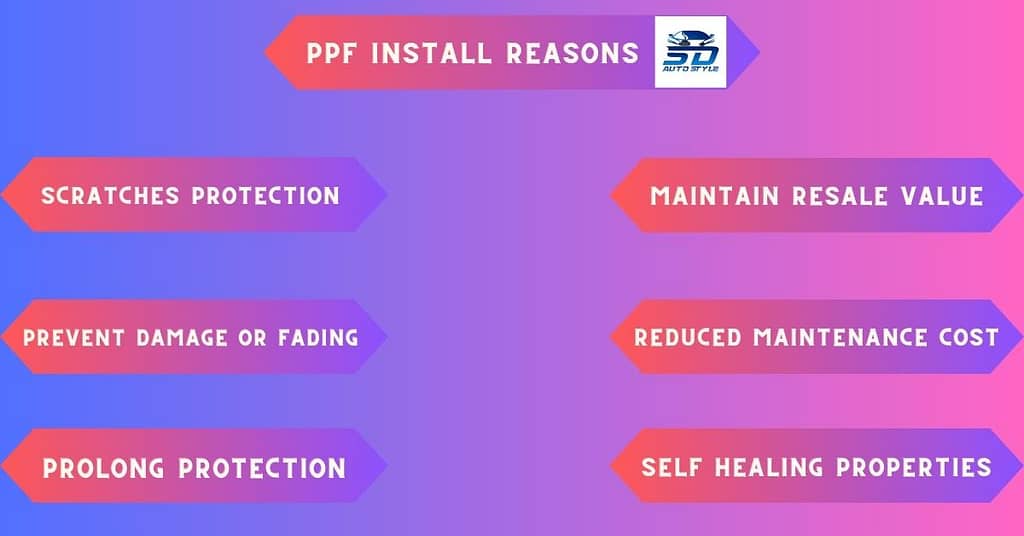 So, let's look at some of the benefits of having a clear bra or paint protection film bonded to the paint surface of your new car.
Protection from Chips, Swirls, and Scratches
Chips, swirls, and scratches are some of the usual blemishes you'll notice on a car's exterior. You may see swirls on your vehicle's exterior a few weeks after purchase or paint correction. However, installing an anti-scratch protection film guarantees protection against scratches or swirls.
Self healing properties of PPF
Paint protection films have self healing properties. The multiple layers of the film work together to protect the paint and heal surface level damage. A scratch resistant urethane coating keeps the paint from being destroyed.
The self-healing paint protection goes back to its lowest energy state when it comes in contact with heat. This means that surface level scratches or dings will heal if you wash the car with warm water or leave it in the sun.
PPF Prevents Paint Fading, Bird Droppings or Sun Damage
Paint fading is a significant problem suffered by every vehicle exterior in San Diego. It happens due to excess sun exposure or UV rays. Depending on where you park, you may notice different shades of fading on your vehicle's body panels.
Why wait to spend on paint correction when you can avoid most paint damage by installing paint protection film? PPF or clear bra has unique properties that allow it to resist the effects of ultraviolet radiation.
Likewise, PPF protects your vehicle's paint from bird droppings, water spots, and acid rain. If you're convinced about getting paint protection film for your car inSan Diego, trust SD Auto Style to deliver an excellent job.
Prolong protection of car paint
Most high quality car protection films (PPF) last up to five to seven years of continual use, depending on the driving conditions, preservation, or wear and tear. Before making a wise decision, make sure to thoroughly research the types of films and materials available in the market, and choose certified and adequately trained professionals (SD Auto Style) to install PPF on your vehicle.
It Maintains Your Car's Resale Value
A car loses its value over time. Mileage and quality are two significant factors that affect a vehicle's worth. However, some modifications and upgrades can keep your car looking excellent despite its age; paint protection is one of them.
A well-maintained car retains its value better when it comes time to sell or trade it in. PPF aids in upkeep, stops paint deterioration, and keeps the car's newer appearance for longer. This leads to a higher resale value.
Reduced Maintenance Cost
An initial investment in paint protection film can save you much money on vehicle maintenance. Car exterior maintenance is inexpensive if you make the right choices, such as applying a protective film to your car's paint.
Unlike waxing and sealant applications, which require regular application, paint protection film does not. If properly maintained, a professionally applied protection film will last at least five years.
PPF is ideal for all types of vehicles
Despite your vehicle's model, PPF maintains the aesthetics of your vehicle. Although they only covered paint on parts of cars in the past, new types are compatible with all vehicle models. Wrong-fitting bras can scratch the paint. Therefore, find the best film suitable for your car, designed to be virtually undetectable.
Does PPF Damage New Car Paint?
This material is absolutely safe to use on your new car. Due to the ease of application, most clients prefer this sort of protective coating over the transparent layer of a vehicle's paint over a regular carnauba wax, ceramic coating, or paint sealants. For those who are unaware, PPF is a thin film that employs a unique adhesive material that firmly adheres to the substrate.
During the installation procedure, the transparent paint protection film is fitted, cut, put, and then activated with a liquid spray in numerous stages. To help apply the film to the painted surface, the installer will use a squeegee. This is when the glue begins to adhere to the substrate.
Some vinyl materials or low-quality protective films with cheap adhesives will become extremely sticky if water penetrates the top layer. This is more prevalent than you might expect with vinyl wraps.
Can You Remove the Protective Paint Film?
Yes, a protective film for cars can be easily removed. However, once it is removed, the same film can't be reinstalled on another vehicle or the same. This is an excellent example of why PPF is best suited for people who are either leasing a car (who are going to return it and want to ensure they don't have exterior paint damage) or those planning on keeping the vehicle for extended periods.
A high-quality protective can hold up for 10 years on factory paint. And, if you decide to apply a professional grade nano ceramic coating on top of that PPF, the combination can offer a lifetime of protection.
Ceramic Coating vs. PPF in San Diego: Picking the Right Protection
Choosing between ceramic coating and PPF largely depends on your specific priorities. If you're seeking UV protection, a glossy finish, and ready for low maintenance, ceramic coating could be your best bet. However, if your focus is on superior physical damage protection and self-healing capabilities, PPF stands as a more durable option.
For new car owners, a combination of PPF and ceramic coating is often recommended. PPF approach not only doubles the protection but also adds hydrophobic benefits. If choosing only one is the case, then PPF should be your first choice due to its enhanced durability and protective qualities. If your paintwork isn't in the best shape, you may need to consider paint correction before going ahead with either coating for the best results.
To make the best choice for your vehicle in San Diego, whether that be ceramic coating, PPF, or both, it's advisable to consult with our professional detailing service. Our (SD Auto Style's) expertise can help you decide the best route, ensuring your vehicle continues to gleam on the vibrant streets of San Diego for years to come.
Why Choose SD Auto Style for PPF in San Diego
When it comes to preserving your car's paint with PPF in San Diego, SD Auto Style's clean and cutting-edge installation shop is unparalleled. At SD Auto Style, we use premium quality materials for our PPF services. In terms of putting paint protection films, we have a lot of experience.
Maintaining your vehicle's beautiful finish in San Diego is simple with Paint Protection Film (PPF). Keep your vehicle looking great by investing in PPF and protecting it from scratches, stone chips or environmental hazards. Choose SD Auto Style for superior PPF services in San Diego and drive with confidence.
"SD Auto Style is a company that offers Auto Styling Services for your car. These services can improve the look and performance of your vehicle by changing the color, protecting the paint, and reducing the heat and Glare"